On St Michael's Way
......nine contemporary artists respond
6 -15 April 2016 : 12 Star Gallery, Europe House, London. SW1P 3EU
23 July - 30 Sept 2016 : Tremenheere Sculpture Gardens, Cornwall, TR20 8YL

A group exhibition focusing on St Michael's Way; a 12.5 mile walking route crossing the Cornish peninsula in the far west, from Lelant on the north coast to Marazion and St Michael's Mount on the south coast. The exhibition features works produced by invited emerging and established Cornwall based artists with shared interest in our ever shifting, entwined and evolving knowing of landscape, ritual and faith.
The St Michael's Way was established in 1994, when, based on shipping records from the middle ages, and other archaeological and historical evidence, it was also officially linked to the Camino de Santiago network of pilgrim paths in mainland Europe, which converge at the tomb of Saint James in north west Spain. It remains the only long distance footpath in the UK to be designated a European Cultural route by the Council of Europe.
St Michael's Way was the muse of the artists in this show. Although a modest footpath in length (but not in sites), it is an enduring and tangible reminder of a long established and vibrant thoroughfare connecting Cornwall, and neighbouring Wales and Ireland to mainland Europe and a number of artworks in this show speak of journey, real and imaginary, not only along this path, but also to and from worlds beyond the horizon.
On St Michael's Way was curated by Janet McEwan and produced in association with Friends of St Michael's Way: a group whose broad aims include ensuring the footpath is researched and maintained, promoting the route regionally and beyond, and considering its cultural, spiritual, economic and geo-political importance- past, present and future, through various lenses. Vice Chair, Prof Michelle Brown, FSA, provided a short introduction in the exhibition graphics outlining the cultural significance of the route, and gave an accompanying talk at the opening event.
Following its London debut at the 12 Star Gallery, the exhibition was re-presented in Cornwall at Tremenheere Sculpture Gardens, near Penzance Cornwall July 23rd - Sept 30th 2016. The opening signalled the launch of a programme of public events and activity along the St Michael's Way footpath over the summer months of 2016 and beyond.
A 44 page full colour hard back bound catalogue was produced to accompany the exhibition.
Available at Artisan shop, Tremenheere or by emailing mail@stmichaelsway.net. Cost £9 plus P&P
Marie Claire Hamon
"We took a path into the hills"
125 x 125 cms Oil on Canvas.
The exhibition was supported by CERES (Centre for European Research & Support within Cornwall) and The European Commission.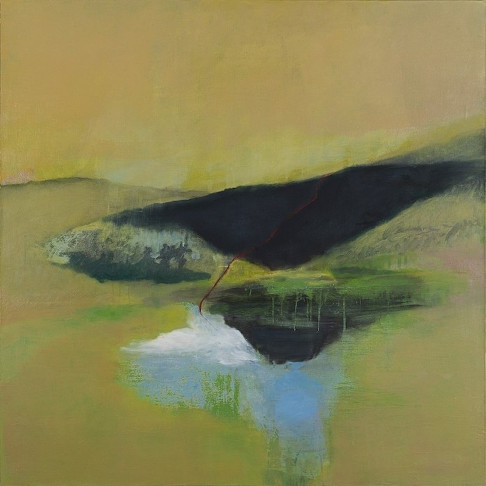 The 12 Star Gallery is located at Europe House, 32 Smith Square, London SW1P 3EU and shows work which celebrates the creativity and cultural diversity that is the hallmark of the European Union. Exhibitions are organised mostly by the embassies and cultural institutes of the EU's member countries.
Tremenheere Sculpture Gardens is a major new attraction in West Cornwall which opened mid September 2012. In a beautiful sheltered valley, the woods, stream and dramatic vistas provide a perfect setting for large scale exotic and sub-tropical planting. Interwoven with this there is also an evolving programme of high quality contemporary art installations.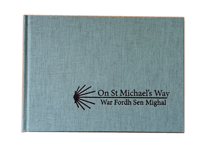 < Click to download a PDF of the exhibition catalogue (26MB)